Latest posts by Miguel Prados (see all)
[vc_row row_type=»row» use_row_as_full_screen_section=»no» type=»grid» angled_section=»no» text_align=»left» background_image_as_pattern=»without_pattern» css=».vc_custom_1490093524309{padding-top: 30px !important;}» el_class=»container_inner container_center»][vc_column el_class=»font-serif» css=».vc_custom_1490267138942{margin-top: -140px !important;}»][vc_empty_space height=»100px»][vc_column_text]
Superneighbours who take care of their neighbours as we stand shoulder to shoulder against Coronavirus
[/vc_column_text][vc_column_text]
Share this article
[/vc_column_text][vc_empty_space height=»20px»][vc_column_text css=».vc_custom_1584535294132{margin-top: 20px !important;margin-bottom: 40px !important;padding-left: 10px !important;}»]
Do you want to help your neighbours beat Coronavirus? Or, maybe you need help. How can you contribute? You can help the elderly in the building by doing their shopping, pick up prescriptions from the pharmacy, taking their pets for a walk, or you can coordinate the support process. Here is a simple form to print out and put up for all to see! Place the form in the building´s main doorway and the elevator/lift.

Super-neighbours who take care of their building´s elderly

Since Covid-19 disease (Coronavirus) became known, there has been no shortage of possible prevention methods to avoid contracting the virus. In Spain you can follow the updated figures of affected people on this Ministry of Health web page.

The Government has decreed the state of alarm. This entails limiting circulation on public roads except for activities such as:
Purchasing of food, pharmaceutical products and basic necessities

.

Attendance to health centres

.

Travel to the workplace to perform professional or business activities

.

Return to the place of habitual residence

.

Assistance and care for the elderly, minors, dependents, disabled persons or vulnerable persons

.

Travel to financial institutions.

Due to force majeure or necessity

.
There may be people in your building who belong to vulnerable risk groups such as; those over 60 years old, hypertension, diabetes, cardiovascular problems, chronic lung disease, cancer, immunodeficiencies or are pregnant.
What can our Community of Owners do in this situation? Supervecina.com proposes the initiative #IamaSuperNeighbour which advocates the following: those neighbors who can, carry out essential needs tasks, like shopping, going to the pharmacy or walking pets, instead of our more vulnerable neighbours, always taking all the recommended precautions such as avoiding physical contact and maintaining a safe distance as you deliver and/or collect goods. Bear in mind, pets cannot transmit the Coronavirus to you.
In these delicate moments, solidarity with neighbours whom we interact with daily should prevail, so that we help each other to overcome the situation. Now is the time for those SuperNeighbours to come forward. With this initiative, thousands of fellow citizens who face the constant worry of how to do daily tasks without risking infection, would be helped. If you have a Whatsapp group in your Community of Owners, you can forward this initiative, or send it to the president of your Community and your administrator for wider distribution.
This measure will not only ease the situation, but will also strengthen ties between neighbours, creating a closer and more cordial atmosphere, helping the community to reconnect. By the time this situation passes, and it will, asking our neighbours for salt or sugar (or receiving a postal package for you) will feel more natural like yesteryear.
Between you, you can establish a weekly calendar rota among the volunteer neighbours to cover neighborhood care. You could also create a Whatsapp group to discuss the issues and use some calendar tools, such as calendly.com

How can I help my neighbours? How can I prevent the spread of Coronavirus?
Two good options to support our neighbours would be those mentioned above.  We can though, also help by encouraging communication about the virus within our community. You can download and recommend the download of this app to others: Health Responds.

In addition to the form that we attach, you can paste in the common areas of the community information related to the prevention of the virus, so that everyone is fully aware of everything to be done, in an informed way avoiding hoaxes.
What information should appear on the brochures? Mainly the methods of prevention, treatment and causes of Coronavirus.
Some key data facts to include would be:
-Not to have direct contact with infected people.
-Do not leave your home if you contract the virus.
-Wash your hands every time you have the chance. If you use public transport, wash your hands immediately afterwards.
-The virus does not survive exposure to 26-27 degrees Celsius. If you intend to wear the same garment again within 6 hours, you can hang the garment in the sun from your window, which will help remove the virus if by chance it is in your clothing item.
-Stay at least one metre away from a person who sneezes.
-If you sneeze or cough, cover your mouth with a tissue for later disposal.
-Propose the cleaning of communal areas on a regular basis (you can disinfect the lift control panel on your floor with alcohol from time to time) in order to cleanse any contaminated objects.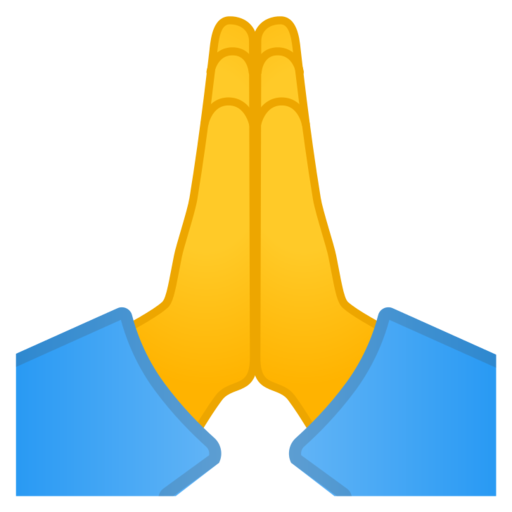 –-You can use the Namaste greeting with your neighbours (join your hands and lean slightly forward) meaning `I send you good wishes´. It is a novel, original way of greeting each other without contact.
Be careful with people outside your building
In recent days in the Community of Madrid, there have been cases of individuals who have come to the homes of the elderly claiming to belong to a medical team, such as the Red Cross. These people are taking advantage of the chaotic situation with the Coronavirus to burgle your home. So you must be especially careful with all those people outside your Community of Neighbours who knock on our doors alleging they have an official capacity concerning this virus.
We recommend a fixed sign in the building's entrance, or on the notice board with this information.
No owner meetings may be held while the alarm is still active

This is a specific instruction from the Government, so it is advisable to postpone all important decisions to be made by the community to a later date. However, you can start using telematic voting tools such as Supervecina.com to propose and vote on proposals online in your Community of Owners. Please remember, for this online decision-making format to be valid, it must be included in the Community of Owners' statutes, but it is nevertheless,  an excellent opportunity to improve these new skills that are useful for your Community.

Below are photo images  that we have received from people who have already printed and posted the form. Join the initiative, share it and tag us on social networks if you participate!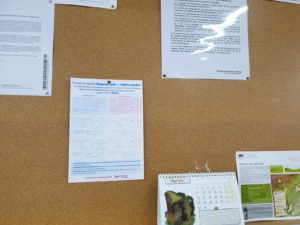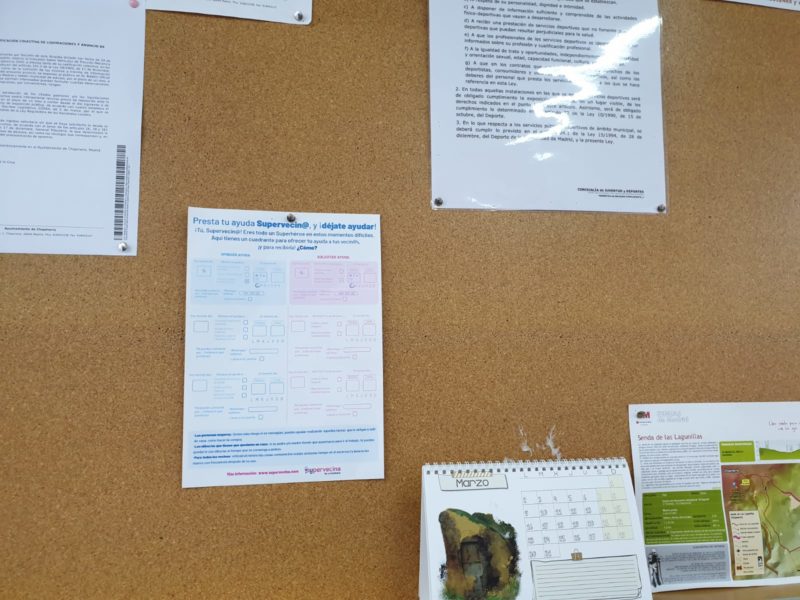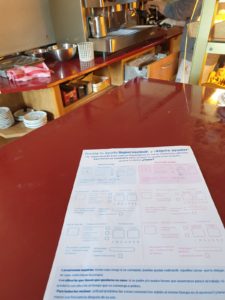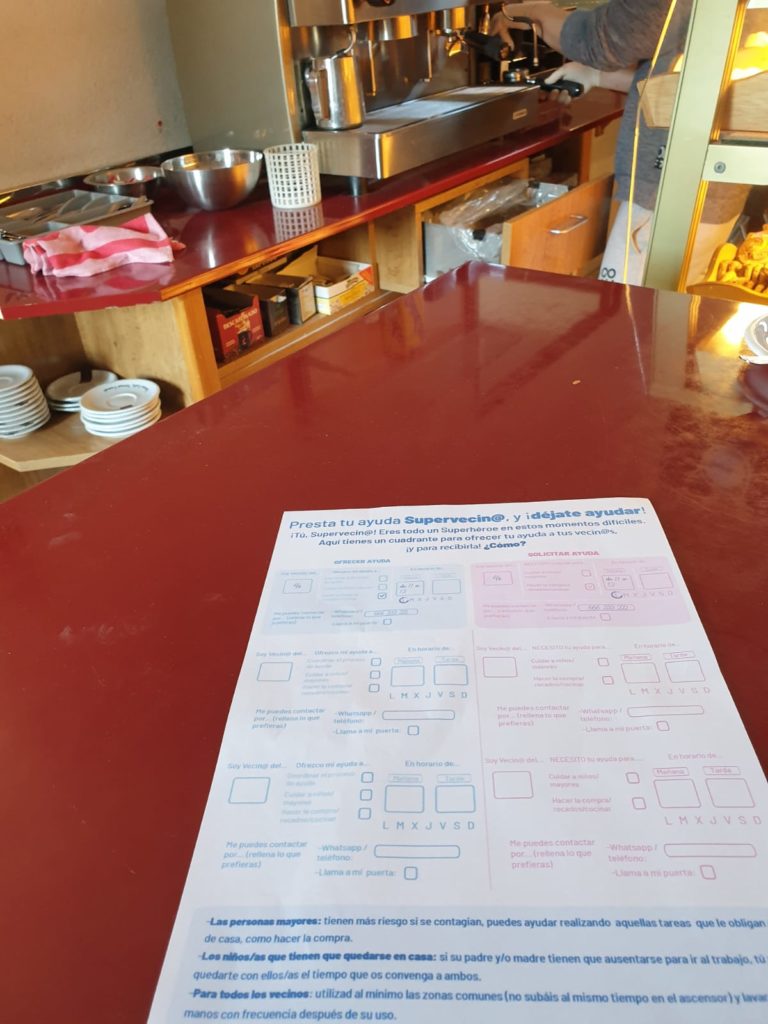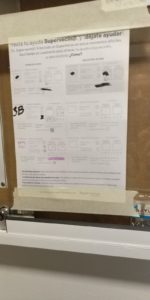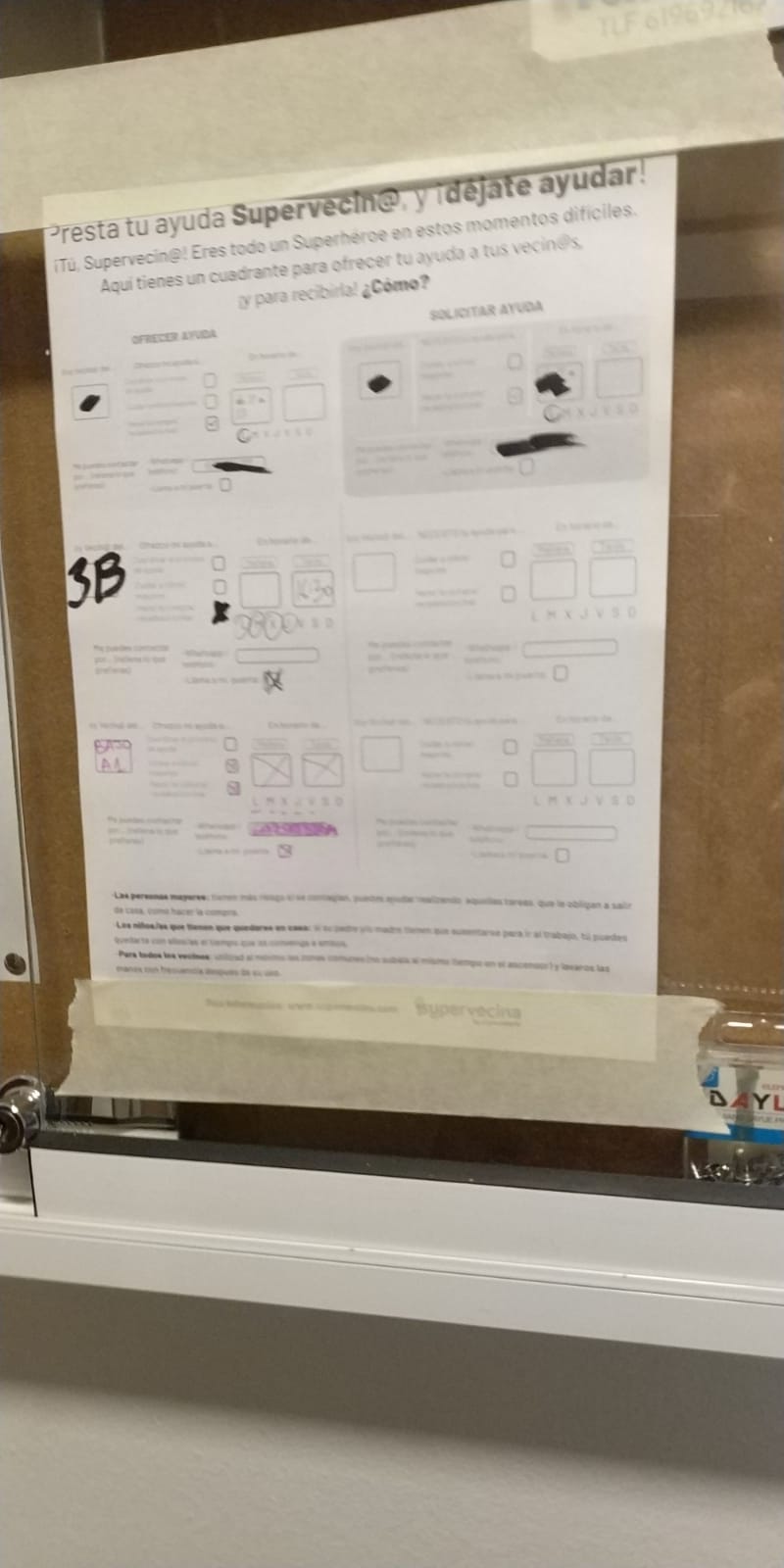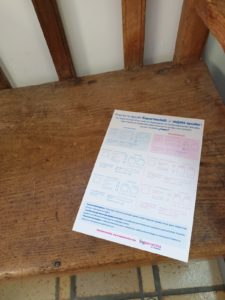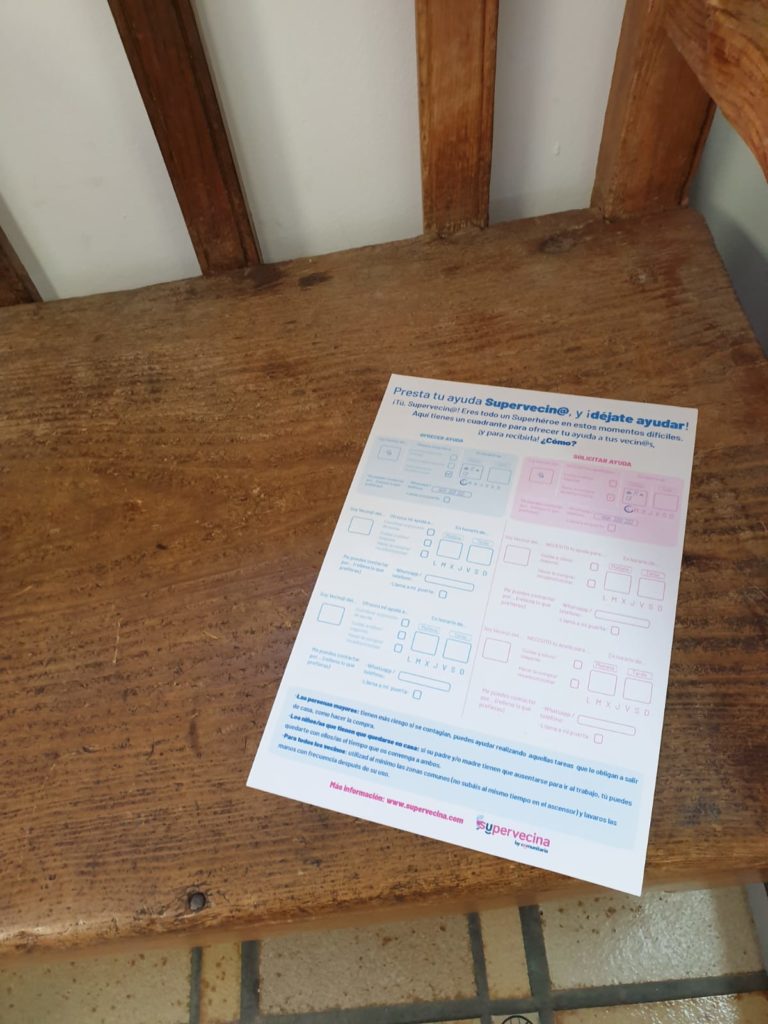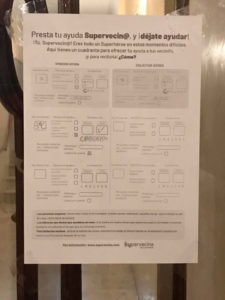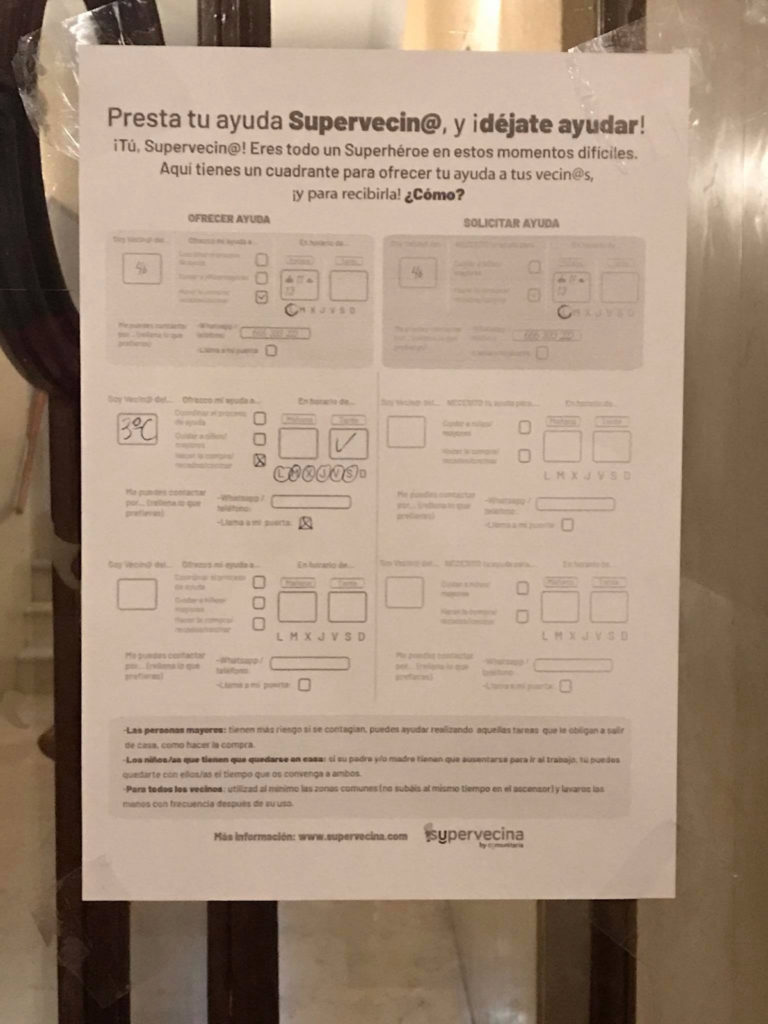 For more details visit Supervecina
[/vc_column_text][/vc_column][/vc_row]